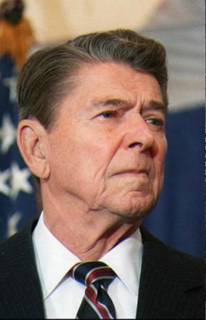 My friends, we live in a world that is lit by lightning. So much is changing and will change, but so much endures, and transcends time.

History is a ribbon, always unfurling; history is a journey. And as we continue our journey, we think of those who traveled before us. We stand together again at the steps of this symbol of our democracy -- or we would have been standing at the steps if it hadn't gotten so cold. Now we are standing inside this symbol of our democracy. Now we hear again the echoes of our past: a general falls to his knees in the hard snow of Valley Forge; a lonely President paces the darkened halls, and ponders his struggle to preserve the Union; the men of the Alamo call out encouragement to each other; a settler pushes west and sings a song, and the song echoes out forever and fills the unknowing air.

It is the American sound. It is hopeful, big-hearted, idealistic, daring, decent, and fair. That's our heritage; that is our song. We sing it still. For all our problems, our differences, we are together as of old, as we raise our voices to the God who is the Author of this most tender music. And may He continue to hold us close as we fill the world with our sound -- sound in unity, affection, and love -- one people under God, dedicated to the dream of freedom that He has placed in the human heart, called upon now to pass that dream on to a waiting and hopeful world.

God bless you and may God bless America.
Ronald Wilson Reagan, from his 2nd Inaugural Address.
Goodbye Mr President. I will miss you.